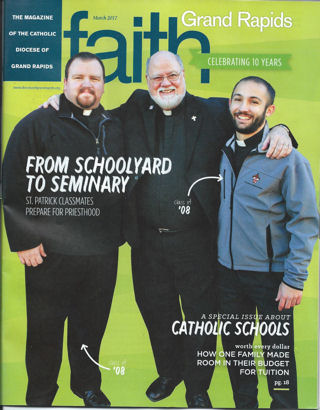 The Sacred Heart council seminarian for 2015 was Michael Steffes Jr.
In the March 2017 issue Faith magazine it was announced that Michael Steffes will be ordained a deacon on May 9th. The Sacred Heart council is very proud of Michael Steffes.
Michael has sent our council the following update in January 2016;
I had a eventful last semester at Mundelein Seminary. The beginning was busy as our Rector Fr. Robert Barron was named a bishop which meant that we were getting a new Rector. We were all anxious on who the replacement was going to be, but were very happy when they named Fr. John Kartje as the new Rector. We all miss Bishop Barron, but we are in good hands.
My favorite class this last semester was studying the books of Matthew, Mark, Luke, and Acts with Dr. Scott Hahn. It was hard to keep up with him at times because he knows so much about the Bible, but I learned a lot.   
This February-July I will be on my internship at Our Lady of Consolation in Rockford which I am excited for. It should be a great experience and I am hoping to learn a lot about Parish life.

Thank you for supporting seminarians it means a lot to us and I am truly grateful for all you do for the Church. 
Below is a video update prepared for our council by Michael in 2015.