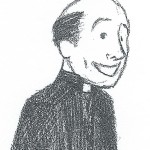 Who will give the sacraments to the next generation? Seminarians need our help to cover basic costs and tuition.
The Sacred Heart Knights of Columbus are sponsoring a lasagna dinner on Saturday, March 18th to support our 2017 seminarian, Michael J Goodwin. After the dinner Michael J Goodwin will do a short presentation highlighting his trip to the 2016 World Youth Days. We will also have a Q & A session related to vocations.
Advance tickets can be purchased at the Sacred Heart Academy office or through Eventbrite (a small convenience fee will be added). Suggested donations for Adults is only $8 and $5 for kids 12 and under.
The Sacred Heart council has supported three seminarians who have been ordained and are serving the Grand Rapids diocese. Two of the other three seminarians we have supported are still studying to become priests. One seminarian is currently taking a break to be sure of his vocation. Please help us support our future priests and salute our current priests. 2016 Dinner details available here.