Once a month the Sacred Heart Knights of Columbus prepare a fresh, hot breakfast for the boys housed at the Haven Holy Cross Children's Center on the northeast side of Grand Rapids. The Sacred Heart council partners with other councils in the area to be sure that the boys have a nutritious breakfast every Saturday and Sunday.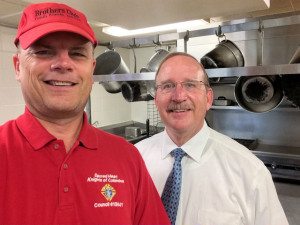 While a healthy breakfast is important, it is more important to show these boys that there are people who care about them. Many of these boys come from single parent families without strong father figures in their lives. By sharing with these young men we are fulfilling two of our principles, charity and evangelization through community service.
If you would be interested in helping the Knights with breakfasts for the Haven, please contact the Sacred Heart Knights at sacredheartgr@gmail.com.