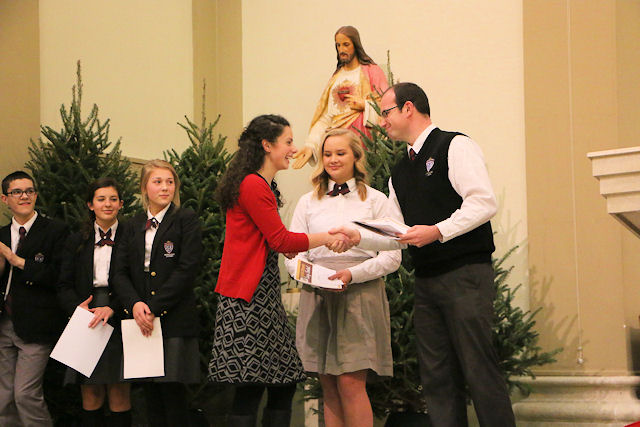 Sacred Heart council is proud to announce that two of our council essay contest winners from Sacred Heart academy have won their grade level at the state competition and are now entered in the international Knights of Columbus essay competition!
The Sacred Heart council and Michigan state winners are;
10th Grade – Meghan Koepke
12th  Grade – Sophie Divozzo
The Sacred Heart Knights will again be sponsoring this essay competition starting in September 2016. Watch for further details in the bulletin and academy newsletters.
COUNCIL ESSAY WINNERS BY GRADE
7th Grade
1st – Emma Den Braber
2nd – A.J. LaPonsie
8th Grade
1st – Ben LaPonsie
2nd – Alina Gumbko
9th Grade
1st – Grace Richert
2nd – Maggie Mantooth
10th Grade
1st – Meghan Koepke
2nd – Claire Marie Lindgren
11th Grade
1st – John Paul Sergeant
2nd – Mary Rose Lindgren
12th Grade
1st – Sophie Divozzo
2nd Daniel Richert
COUNCIL OVERALL WINNERS
1st place overall – Meghan Koepke
2nd place overall – Sophie Divozzo
3rd place overall – Grace Richert & Ben LaPonsie (tied)